Can I make a -
Let's stop you there. Yes! If it's related to Team Fortress 2. If it's lewd or NSFW, though, we would prefer you host it elsewhere and post a link marked as NSFW, rather than uploading it to TF2maps. This prevents it being previewed on the front page.
Can I enter on another day?
Yes. You can enter on whatever 72hr period you wish, though we suggest you do so before the normal contest time. Simply post the times and dates you wish to enter in the jam thread and we'll make a list.
We can't promise to provide the same amount of support for people entering outside the normal time but we will do our best.
Can I collaborate with someone else?
Yes! Make sure to credit everybody involved in the submission when you upload.
Do I need to be a TF2Maps member to join?
You'll need to join the site to upload your entry. This is open to everybody, even those who have never been here before!
What can I do before the Jam starts?
This depends on what it is you want to do with the Jam. Do you want to go from a completely blank slate to a finished project? Or meticulously planning every detail before opening your chosen tool? Either is fine.
What we don't want people doing is continuing half-finished or already in-development projects. The Jam is a great way to flex your creative muscles and try something new.
What if I don't want to abide by all these cruel and restrictive rules?
That's cool. We're not fussed. We're glad you're joining us! However, please let us know if you're doing that. Its not fair to other people if some get to start earlier, for instance. You probably won't get the medal, though.
Can I participate on the livestream?
Yes! We have servers running for the duration of the Jam, which we will be using for several of our segments as well as map testing. So feel free to join at any time, and you may end up having some airtime! We also have frequent 'Jam Ketchup' sessions to showcase the community's work over the Jam, so if you make something it's likely to show up!
How can I get feedback on my project?
The two best ways are to post a thread on the forums, and to join the discord and ask people what they think - we're always happy to help. If you want your map tested, similarly join the discord and ask - we can show you how to get it added to our map testing list. There are a few other rules that maps need to abide by for us to test them (since doing otherwise can break our servers) - see here. You can also find more information for map testing here.
I want someone to collaborate with me!
This isn't a question. However: post in the thread or in our Discord server and maybe someone will offer to join you. (It usually helps your chances to say both what you are good at and what ideas you already have).
What are these extra rules for testing maps?
TF2Maps Map Testing Info
When does the Charity Drive start and how long will it last?
It will start alongside the Jam and will be linked accordingly. Once running, you can donate as you wish. We will be monitoring the drive closely in the weeks after the Jam, so feel free to donate in that time as well.
Can I get both medals?
If you fit the criteria for both, of course!
Can I get the Charity Medal if I don't participate in the Jam?
Sure! We'd really love to have you on baord for the Jam as well, though this isn't necessary when donating.
When will I receive my medals?
We give out medals manually, so we need to wait until all entries are submitted and donations are made! Then of course we need to sort through it all! We plan for everyone to have received their medals 4-6 weeks after the end of the jam, but we can't make any guarantees as these things take time.
Where do I submit my entry?
Log into the site and head over to https://tf2maps.net/downloads/
Click the "Add Download" button in the upper right.
Choose the correct category for your download. For example, paintings go in the "Art: Images" category, and KotH maps go in the "King of the Hill" category.
Click the "(No Prefix)" button and select the "72hr Jam 2023" prefix next to the title of your submission.
Add a title, your files, a description, and upload your submission!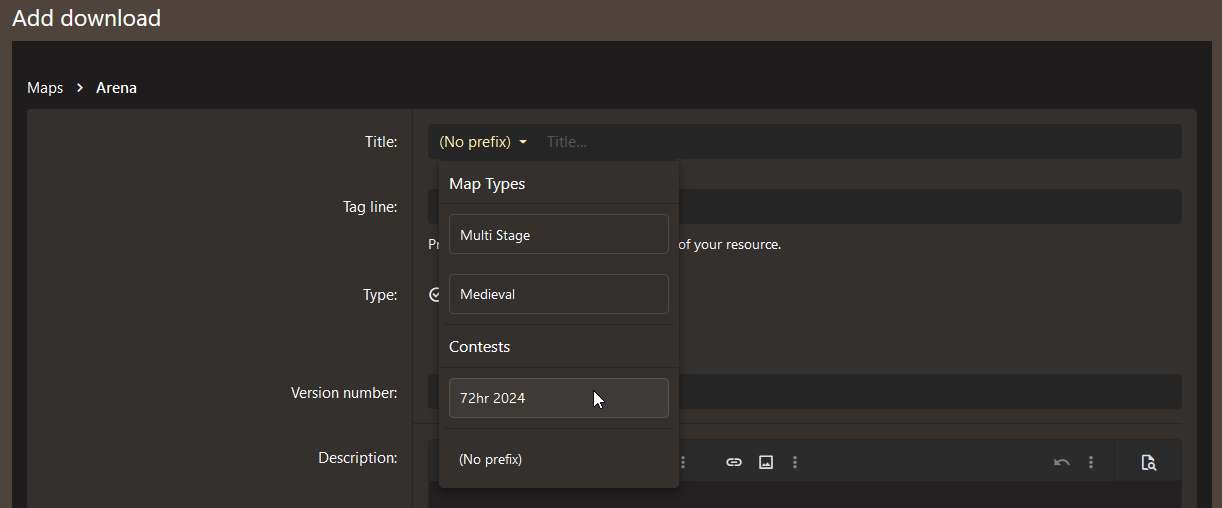 To add preview images to your entry:
Submit your entry with the process above.
Click the "Manage Cover" button on the newly created download page.